The Bajwa Sisters Bring SARGI To Toronto: Inside The World Premiere!
After achieving success with her film Channo Kamli Yaar Di,
Neeru Bajwa

is back with her second home production.
The film
SARGI

had its world premiere in Toronto and is now in theatres everywhere. Prior to the premiere, Neeru appeared at a press conference to chat with reporters while her sister Rubina Bajwa joined in over skype.





Rubina is making her debut in SARGI while Neeru is making her debut as a director. Joining Rubina in the film are Jassi Gill, Babbal Rai, Karmjit Anmol, and B.N. Sharma.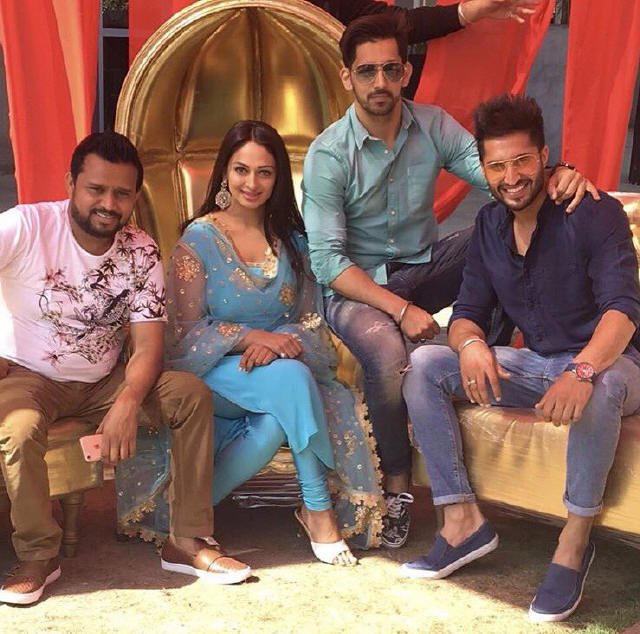 The film resolves around a simple girl from a small city in Punjab named Sargi (played by Rubina) who is the daughter of a poor carpenter. Her childhood friend is Babbu (played by Jassi Gill) who is the son of a very rich farmer and has been in love with Sargi since they were kids. As his love grows for her, he is unable to tell her how he really feels for her and Sargi ends up marrying Amrik Singh (played by Karmjit Anmol) for immigration purposes. She leaves India with her new husband and starts her new life abroad. Sargi finds a job working in a coffee shop where she soon finds herself between two men—her husband who has now fallen in love with her and Kaim (played by Babbal Rai), who is the son of the shop's owner. Suddenly Babbu shows up at her coffee shop unexpectedly to get his shot at love with Sargi but Sargi has already developed feelings for Kaim. When Kaim proposes to her, she hesitantly says yes and a heartbroken Babbu returns to his village. Who will Sargi choose in the end? You'll have to watch the film to find out! Here's the trailer:
At the press conference, it was my first time meeting Neeru but I have been following her career for YEARS. I remember when I was first entering the entertainment industry. It was around 2010 and I remember Neeru had a Bollywood film coming out at that time. Back then, there weren't too many Canadian girls hitting it on a big scale in Mumbai so for most of us Canadian girls we were looking at Neeru as inspiration. Here was a girl from Vancouver with no filmy connections and making things happen for herself in Indian cinema. But while us foreign girls were being coached to strive for Hindi film, Neeru suddenly started appearing continuously in Punjabi films, which was a BIG NO NO back then. If a newcomer was offered a Punjabi film, everyone would say not to do it as it was a career killer. "There's no prestige or money there," I was told over and over again.
Gosh, how times have changed! The Punjabi film industry has really evolved into a bigger and better industry and aspiring actors everywhere are eager to land a role. For Neeru, it's thrilling to see how the industry has changed since her first film fifteen years ago. She told me how excited she is to be able to tell the stories that matter to her and how important it is for her to make films with strong positive female leads. "When I started out, people didn't expect much from the female actors. It was a stand here, go sit there mentality. But I was always the one who did more then get told where to stand—I always asked questions. I wanted to understand what was happening and I often thought to myself how I would shoot the scene. Because I wasn't someone who would just stand in the background, I don't think many people liked me but they had to put up with me…" she said with laughter. "The industry is very male dominated and it's important for more women to get involved in these bigger roles. I make sure all the films I produce are with characters who other girls can look up to. Sargi is a strong character who can hold her own and when it came to casting her, I kept seeing Rubina in the role. That's why she got this film. It's not because she is my sister. It's because I knew she would fit this role and she would work twice as hard as any other actor to prove to everyone that she deserved this role. People think Rubina was handed this film on a platter and it's not true. She put in the work. She was struggling for years in the industry and I saw her talent. When this film came together, I just knew she would be perfect as Sargi and I think the audience will see that too."
Check out my full interview with Neeru on ATN (check your local TV listings). One thing you may not see is a little behind-the-scenes sister love that I witnessed at the press conference. The day of the press conference was also Rubina's birthday and with all the craziness around the premiere, Neeru forgot! As we said goodbye to Rubina via skype, she jokingly scolded Neeru for not wishing her happy birthday, to which Neeru cringed in disbelief. To make it up to her, Neeru sang Happy Birthday and those of us in attendance joined in. I'm sure it's understandable why Neeru didn't realize what day it was and I'm pretty sure she will make it up to Rubina. As she put it, "I gave her a film for her birthday!"
Happy belated birthday Rubina and good luck to the Bajwa sisters. Go see the film everyone. It's getting fabulous reviews!