Kismet 2017 Wedding Show Highlights!
By amin

|

Comments: 0

|

January 18, 2017
It's that time of the year again!
January kicks off the first batch of wedding shows to get all the newly engaged couples started on their wedding planning. For those of you who have been following me for awhile, you may recall I used to host the Kismet Wedding Show. I always had a total blast hosting and showcasing the latest fashion collection (love my job!). The show went through some changes including changing of ownership and since then, I haven't had the chance to check out the newly revamped Kismet. So I decided to stop by and show my support and of course….check out the latest Indian fashion designs!
In terms of fashion, what we saw was very much the modern bride and groom. The outfits shown focused on quality fabrics and prints. Gone are the days where you would see the couple decked out in heavy outfits and jewelry. The modern bride and groom want to look glamorous without being overdone and they want outfits they can spent the whole day in with ease. I really loved seeing the outfits with lace and especially with the capes! I'm a HUGE fan of capes and trains…it's such a nice touch of drama and elegance to an outfit.



While the focus is on the couple's bridal outfits, for all of you gearing up for a busy wedding season there are tons of options for you too! Indian weddings are so big and stylish that it's not just the bride and groom who want to stand out. For those of you looking to make a big splash as a wedding guest or looking for a glam outfit for a special event, the big trend for women is the mix and match lenghas. We saw a lot of off-the-shoulder tops and versatile tops that can be paired with any other lengha bottom to make a whole new outfit. As someone with a LOT of Indian clothing in my closet, I know how amazing it is to have a few key pieces that you can pair with virtually anything. Who wants to wear an outfit once?! Now you can mix and match with ease and it's like having a new outfit each time.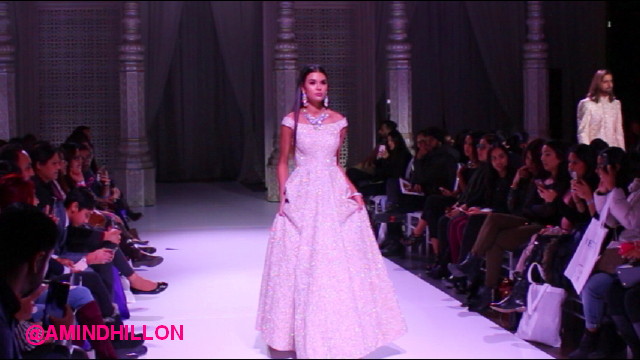 Beyond the clothing, the wedding show had a number of vendors showcasing all the latest in creating your dream wedding. Seriously, I'm always amazed at what the latest craze is. To see what's hot this year and the highlights of the show, watch the video below!