Recapping Archana Kochhar's NYFW Show With Sunny Leone & Reshma Qureshi
By amin

|

Comments: 0

|

September 12, 2016
On Thursday, designer
Archana Kochhar

made her second appearance at NYFW to showcase her latest collection "A Tale Of Two Cities" inspired by the Taj Mahal along with the rich colors of the village of Banjara tribals.
NYFW is one of the most prestigious fashion weeks in the world and it's a very big deal for a designer (and the models) to be a part of it. While Archana made her debut last year, she made sure the Indian female power got even bigger this year with two very special models.
Sunny Leone

made history as the first Bollywood actress to walk at NYFW and called the experience "a dream come true." Here's a little video she shared of her closing Archana's show.

https://www.instagram.com/p/BKH10mLBrr2/
After the show, Sunny spoke with media and said this about the whole experience. "It feels amazing and when I found out that I am the first, it felt even better. I was very nervous about walking and just wanted it to go perfectly."

Sunny wasn't the only one getting international attention. She was joined by 19 year-old
Reshma Qureshi

who had her face severely disfigured and her eye permanently damaged in an attack two years ago by three assailants. One of them turned out to be her brother-in-law who had intended the attack to be on her sister. She was only 17 at the time. Turning her horrific ordeal into something that could make a difference in the world, Reshma is the public face for the non-for-profit organization "Make Love Not Scars". The organization is working to end the widespread sale and access of acid in India and reduce the number of acid attacks with posters like this one.
Reshma, who has never left India before this trip, opened for Archana and later on walked in the evening show for Vaishali Couture.
How inspirational are these ladies? All of them are breaking stereotypes and showing the world that you are more than just a label. Sure you can judge Sunny Leone by her adult star past, you can judge Reshma as a victim, and label Archana as simply an Indian designer but these women are wonderful examples that labels are just a product of what other people think—not an indication of what you are capable of. If you have a dream, why limit yourself? I love seeing these women keep pushing boundaries and showing us all that you can be a success in multiple avenues regardless of your circumstances.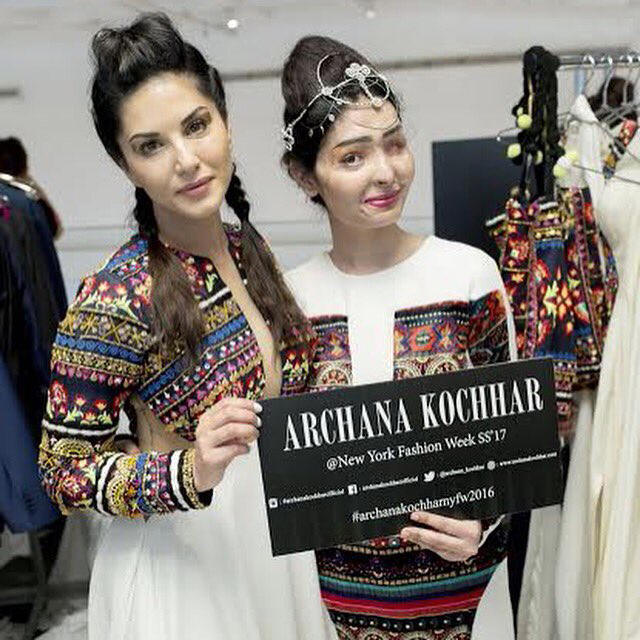 Fashion + beauty + girl power…LOVE IT! Can't wait to see an even BIGGER Indian presence at next year's NYFW and even more inspirational women 🙂