Emmy Awards 2016 Recap: Here's What You Missed!
The 68th annual
Primetime Emmy Awards

aired last night where the best in American prime time television programming were recognized.
Did you miss it? No worries. Here's my recap:
The host of the evening was Jimmy Kimmel and I would rate him as okay. Some of his jokes were just not needed. He made unfunny jokes about Bill Crosby and following the In Memoriam tribute that just felt awkward. Can we try out James Corden for next year???
Speaking of the tribute to all the celebrities who passed away this year, how amazing was Tori Kelly with her acoustic performance of "Hallelujah"? It was the most touching part of the evening.
Veep won for best comedy series and its leading actress Julia Louis-Dreyfus won her fifth consecutive Emmy for best actress in the comedy category. Her speech was probably one of the best. She was funny but she was also emotional—she thanked her late father who she revealed had died on Friday. You could see her hands shaking as she held her speech and you couldn't help but want to give her a big hug. When she ended her speech by saying how she was glad her dad liked the show as his opinion was the only one that mattered, I think every person could relate to her. Sure awards are great but at the end of the day, an award can never replace an actual person in your life. It was a moment that made you go wow, we chase all these material things like titles, money, awards but at the end of the day, does any of that matter if the people you love aren't around? It was a very bittersweet moment on stage to see.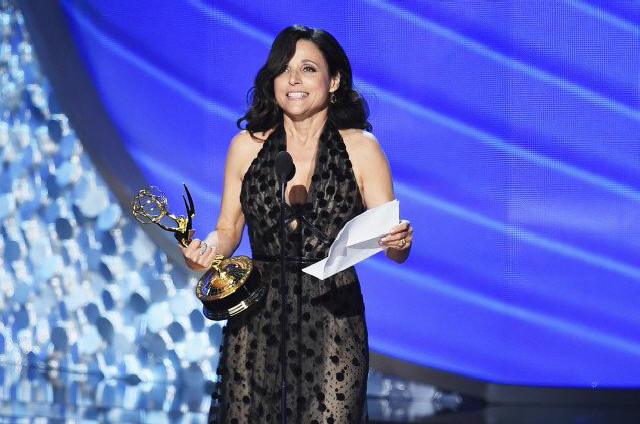 The big winner of the night was O.J. Simpson, well sort of. Perhaps O.J. was watching the show from his jail cell as the TV series based on his murder trial "The People v. O.J. Simpson: American Crime Story" won several awards including Outstanding Limited Series and several of the show's actors winning for their categories.
Sarah Paulson who played Marcia Clark in the series brought along the best plus one ever: the REAL Marcia Clark!
Some of the award winners were seen as surprise wins. One was the award for Best Actor in a Drama Series that went to Rami Malek for "Mr. Robot". Canadians were thrilled to see one of our own win, Tatiana Maslany win for Best Actress in a Drama Series for "Orphan Black". Both had very impressive actors in their categories so it could have easily gone to one of the Emmy Awards favorites. Very tough categories to be in this year!
Another surprise win was when Kate McKinnon won for Best Supporting Actress in a comedy. She was so surprised she cried. Aw, more pulling on the heart strings.
Game of Thrones won for best drama and also made history as the most decorated scripted show in Emmy history. Over its six seasons, the show has nabbed 38 awards, beating the record set by the comedy sitcom Frasier.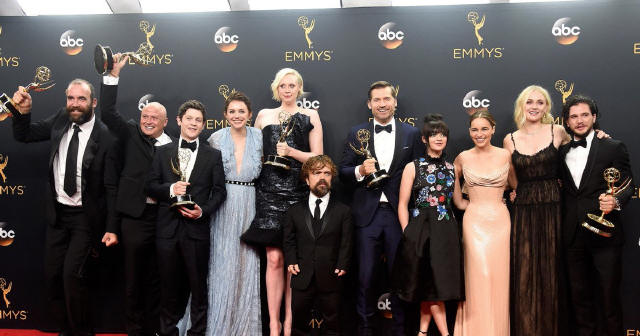 Taylor's ex Tom Hiddleston presented with Priyanka Chopra and I suddenly get the appeal. He was freaking HOT last night. That tuxedo, those cheekbones, and that accent! I have actually never heard him talk before and the entire time he was presenting on stage, his hotness factor kept rising and rising. If he is in the running to play the next Bond, I get it now. I really do get it. It's all about that damn attractive British accent!
Apart from the award winners, a big factor celebrated by the Emmys was the amount of diversity this year. Where the Oscars failed, the Emmys made up. Many of the evening's winners and presenters were of diverse backgrounds. Rami Malek, Regina King, Sterling K. Brown to name some but a stand out moment to me was when Aziz Ansari and Alan Young won for Master of None. An Asian and Indian together on stage winning an award. Amazing! I then remembered Mindy Kaling. Where was she last night?

Overall the Emmys was a good show. Nothing too crazy but a nice blend of celebration and sweetness. The Emmys team must have been rather pleased with themselves until perhaps this little glitch. Did you guys catch the part where the official Emmys Twitter account mistook Terrence Howard for Cuba Gooding Jr? Come on Emmys!
If you want to read my take on the Emmys Fashion, check here to read about the best and the worst dressed of the night!