Chrissy Teigen and John Legend Went Out To Dinner And People Are Pissed.
I was catching up on my social media yesterday and came across this little "story". Honestly, I don't get why this is a big deal but in case you missed it, here it is.
Last weekend,
Chrissy Teigen and hubby John Legend

were photographed leaving a restaurant after a little dinner date. She looked AH-MAZING and by looking at her, you couldn't tell she had just given birth over a week ago (she gave birth to baby Luna Simone on April 14). She was glowing and looked beautiful (John, you're not too bad to look at either !) 😉
Instead of people leaving kind comments on how great she looks and asking how the baby was doing, Chrissy got a bunch of negative comments. She was criticized by many of her followers for leaving her newborn baby at home just 9 days after giving birth.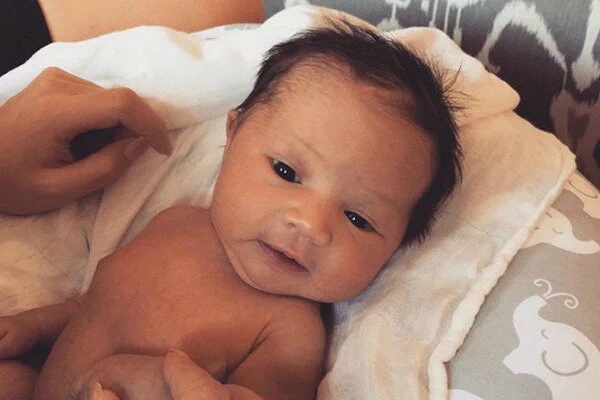 I am shaking my head at this because I think it's absolutely ridiculous how some people feel the need to criticize every little thing that other people do, especially when it comes to celebrities. When you read some of the negative comments, people make it sound like Chrissy is some deadbeat mother who has left her baby alone at some drug-infested house and is passed out in some street corner totally high on drugs.
The woman went on a date with her husband. She had dinner! I would bet money that Chrissy left her baby at home with someone responsible, like her mother. It's not like her dog is babysitting the baby!
Chrissy doesn't need me to defend her but I wanted to bring this issue up just to highlight something I have been noticing a lot. While I love Chrissy for her cheeky and fun posts and I think she's a cool down-to-earth chick, I can't imagine how she is able to not let all the negativity get to her. I have read comments from her followers that have body-shamed her, criticized her appearance, criticized her marriage, and now they are criticizing her mothering skills. It's such a low blow! Why can't we all just spread love and support for one other instead of looking for every little thing to criticize? I think it's great that she and John are taking a little time out for themselves. Just because they had a baby doesn't mean they should no longer have time for themselves and for each other. Right???

Also, does anyone else find it interesting that while Chrissy got all this heat for going out for dinner, not many people directed the same criticism at John. Let's just say, the women I know that are mothers would have very strong opinions about that double standard! Just because you are a mother, it doesn't mean it's a crime to have a life of your own. In fact, from what I hear from my wonderful friends and family members who have children, a little time out with your significant other is very much needed especially when you have children!
Anyways, as per usual, Chrissy had a little fun with all the negativity. Here are some of her online responses.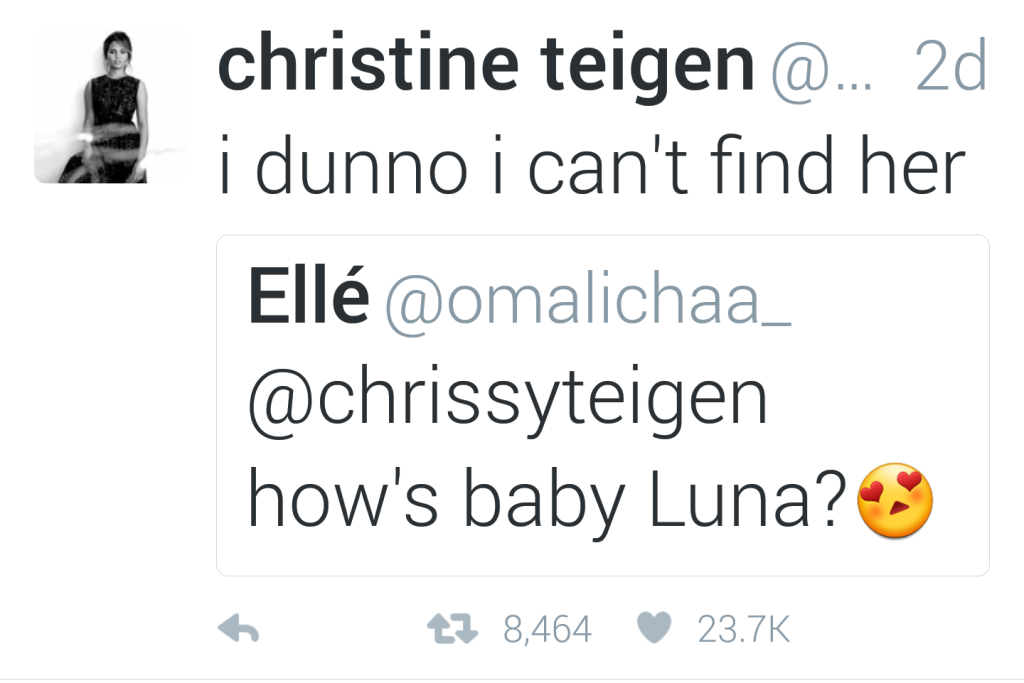 Thankfully there were some fans that had the same question as I did when I saw Chrissy went to dinner.
"WHAT DID YOU EAT AND HOW WAS IT??" lol