Recapping The Bachelorette Canada Episode 1! A Song, A Rose, and A Little Bit of Nudity!
Our Bachelorette
Jasmine Lorimer

has met the 20 guys vying for her love and affections. This week was the premiere and this is one of my favourite parts of these reality dating shows. The day when the Bachelorette aka Jasmine finally meets the guys and boy, are some of those introductions VERY interesting/awkward.

So this week we had some weirdness, some gimmicks, and some sexiness. Some guys were rough and awkward, while others were smooth and intriguing. Oh and we already got some nudity on the show! (More on that later)
First let's talk about Jasmine. I have seen her photos and heard her speak a little in the TV commercials the network ran to promote the show but we all finally got to meet her in the premiere and so far, she seems like a great pick. She's gorgeous and that red dress she wore last night was AH-MAZING on her (plus her hair is like an ad for a shampoo). She seems sweet, kind, smart, down-to-earth, laidback, overall I would say she is a real Canadian girl. I also noticed she was always making sure the guys were doing alright through the first night and trying to make them feel comfortable (all good traits). I also liked that she wasn't boring—she has some edge to her. She called out one of the guys (David) for ruining a sweet moment between the two of them by yelling out "top that!" to the other guys (find out what happens to him later in this post).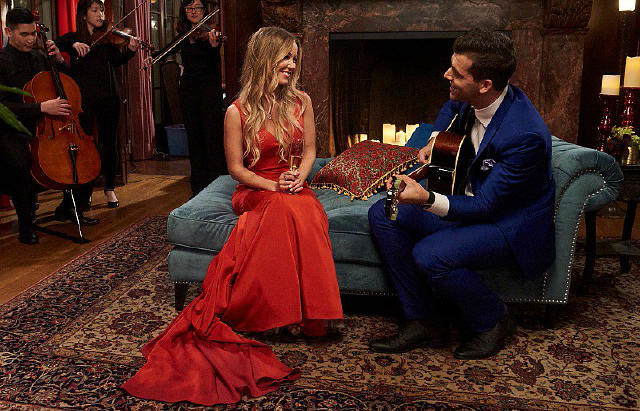 So here's the guys who stood out and made it through the first rose ceremony.
Drew, a VP of Medical Sales from Toronto. I had big hopes for Drew because he was seemed like the total package in his photo: attractive, fit, and confident. But sadly, he seems like a douche. He bragged about being used to the pick of the litter when it came to women and even though he also did mention he was ready to settle down, the show's preview to the rest of the season seems to show him as a villain on the show. He's like a less bulky version of Chad from last season of the American Bachelorette. So we all know he can not win the girl at the end.
Mike aka the Firefighter is one of my front runners. He wins points for being from my hometown of Winnipeg (Peggers ROCK!) but where he really made himself stand out was when he made an emotional connection with Jasmine. It turns out, they both lost a parent—he lost his mom at the age of 8 and Jasmine lost her dad when she was 12. His willingness to open up to her snagged him the first impression rose and based on all the previous shows, the first impression rose is a good indication of who will be in the show till the end. I'm going to bet we see Mike on the show for awhile!
Mikhel is the aviation engineer and seems like he will stick around on the show (for now). Seems like a nice guy and genuine so let's see. He's good-looking, family man, has a good career, and really that nice guy next-door vibe.
Thomas is an international model. Jasmine is clearly attracted to him as she called him pretty and admired his attractiveness. While he did get a rose at the ceremony, I don't see these two lasting long.

David started off on a great note on the show by having a cellist and two violinists accompany him for his song that he not only sang but he played guitar (he is a musician). He seemed amazing until he pulled a dumb move by yelling out to the guys "top that!" Like why David? Why would you do such a dumb thing? Maybe being on a reality show surrounded by all these guys got to him so he felt like he had to be cocky, but that went away when Jasmine called him out for ruining that moment. He spent the rest of the show unsure if she would keep him around and she chose to give him the last rose of the night. So looks like he barely made the cut and has some redeeming to do.
Kevin P is a deckhand who made a great first impression by playing the ukulele as he came out of the limo but later spent the night throwing up. I like him but with him being sick, it's too hard to tell if there will be a real connection between him and Jasmine.

The rest of the guys who made it through the first rose ceremony:
Kevin W, Kyle, Seth, Scott, Andrew, Chris, Benoit, Wale, and JP who is a "Butler in the Buff" and showed up in his work uniform which was a backless apron. Yup, backless!
Next week the gang all heads to Jamaica so we will get to see what the guys are like on actual dates.
If you guys watched the premiere, who are you rooting for?